From top management to all our staff in the countries where we operate, SIHA staff are a team of people passionate about strengthening the capacities of women's rights organizations and addressing women's subordination and violence against women and girls in the Horn of Africa.
Hala Al karib was born and raised in Sudan and later lived in Canada. She currently lives and works in Uganda. She has lived and worked in South Sudan, Kenya and Egypt as well the Eastern and Horn of Africa for over 20 years. Hala's work specifically focuses on women and girls rights activism and social movement as well as refugees and displaced persons and minority community's challenges. She has wide and comprehensive expertise on the Horn and Eastern Africa regions, as a civil society worker/activist, and social and gender research practitioner. Her educational background is on Human rights, women studies and Psychology. In addition to her work as the Regional Director of SIHA Network, she worked for various international and regional organizations/institutions among them; The College of Social & Economic Studies, Juba University in South Sudan where she worked as a Research Assistant; The sociology department at the American University in Cairo as an Assistant Researcher; Immigrant Women of Saskatchewan Inc. in Canada as the Program Director; Trocaire, an Irish Organization as Grant Officer based in Sudan. She has also worked as a consultant with various international and UN Humanitarian organizations, including; Goal Ireland, World University Services, Accord International and Concern International.
She is a regular contributor to many online and print media outlets. Her writing is focused on activism, women's rights and social justice. Some of her recent articles are published in: Aljazeera, Open Democracy, Sudan Tribune The Pambazuka, the New Humanitarian and the East African Newspaper. She is the Editorial head of SIHA Journal – Women in Islam in the Horn of Africa (Arabic & English).
Twitter: @Halayalkarib
REGIONAL PROGRAMME MANAGER
Kimberley Armstrong holds a PhD in Anthropology from McGill University in Canada.  Her research has focused on transitional justice, conflict and displacement in Northern Uganda with previous studies focused on rural to urban migration of women in Senegal. Professionally, Kimberley has worked as a Regional Gender Advisor for a Canadian INGO, covering Nepal, Vietnam and India. More recently she has worked as a Social Development consultant, focusing on baseline assessments and project evaluations, mostly on community-led development programs in Somalia. Currently, Kimberley is the Regional Programme Manager overseeing SIHA programming for the region.
Twitter: @KimArmstrongUg
REGIONAL HUMAN RESOURCE & ADMINISTRATION MANAGER
Jemimah Naburri-Kaheru joined SIHA in March 2012. Jemimah holds a Bachelor's Degree in Development Studies from Makerere University, currently working on her M.A on Human Resource. She has previously worked with the Association for the Advancement of Higher Education and Development (AHEAD) as an Administrator, with the Parliament of Uganda and with the National Association for Women Organizations in Uganda (NAWOU).
REGIONAL ADVOCACY & COMMUNICATIONS COORDINATOR
Sandra is an accomplished communication professional passionate about building knowledge and conducting strategic advocacy initiatives that advance the rights of women and girls.
In addition to feminist activism works, she has, in the last 15 years, pursued her career ambitions in areas of climate change mitigation and adaptation, agriculture and food security, social enterprise development, public health, as well as ICT for Development.
Sandra holds a Master of Arts in Development Journalism and Communication (Strategic & Corporate Communication Management major), plus a Bachelor of Mass Communication (Public Relations & Marketing major) from Makerere University in Kampala Uganda. 
Furthermore, she holds a Post Graduate Diploma in ICT for Development and Social Good from the Spanish Telecentres and ICT Spaces Academy in Spain.
REGIONAL PROJECTS COORDINATOR
Mercy is a Public Health Professional with a keen interest in gender equality, equity, and social inclusion. She has over 15 years of experience in programme design and management, as well as monitoring, learning, and evaluation.
This is expertise Mercy has gathered by managing and coordinating multiple projects while working with government entities and civil society organisations at the grassroots, national, and international levels.
Mercy holds a Master of Community Health and Development from the Great Lakes University of Kisumu, and a Bachelor's Degree in Sociology from Moi University in Eldoret Kenya.
REGIONAL MONITORING & EVALUATION OFFICER
Agnes Tumusiime is an experienced monitoring, evaluation, and learning (MEAL) specialist who has over the years supported the development and implementation of MEAL systems for development agencies, international NGOs, and one of the centers of a global consortium on international agricultural research.
Her experience spans various sectors including access to justice in land rights governance and administration, peacebuilding and conflict mitigation; child rights programming in education, water, and sanitation, and child protection in emergencies; skills development for women and youth in the informal sector; agricultural value chain development for women and youth; organization building and establishment of inclusive farmer cooperatives; agricultural research and technology development; as well as climate action and justice.
Agnes has supported programs in Uganda and 23 other Sub-Saharan countries. Additionally, she has researched the participation of women in decision-making on natural resource governance bodies; and the impact of customary land tenure on women's role in biodiversity conservation.
Agnes is a London South Bank University Commonwealth Scholar; a Claremont Graduate University Fellow, and a certified Project Management and Planning (PMP)professional. She is also a member of Evaluation Associations at national, regional, and global levels.
 REGIONAL COORDINATOR: WE CANNOT WAIT PROJECT
Laureen Karayi-Nabimanya is a women's rights, gender activist and feminist, she holds a Master's Degree of Arts in Development Studies from Nkozi University, a Post Graduate Diploma in Gender Equality Studies from the University of Iceland, a Post Graduate Diploma in Legal Practice and a Bachelor of Laws (Honors). She has over 9 years' experience in working on women's rights, human rights, gender, research and lobbying, grants management, networking and organizing, policy and advocacy. Laureen is very committed to addressing the socio-economic human rights concerns with a special focus on women's issues and promoting gender equality.
Adla Abubker is a women's rights activist from Sudan with more than 15 years' experience of working toward gender equality in Sudan. She holds a Bachelor's Degree in Rural Development from Ahfad University for Women in Sudan. Her areas of expertise include working with grassroots communities, women's economic empowerment, gender activism and negotiating with men to change inequitable attitudes.
Currently, Ms Abubker a Program Officer with SIHA in Sudan, where she oversees SIHA's work on building women movement, and women in Islam, reforming gender-discriminatory legislation, and engaging youth on issues of gender, religion, and race. She believes that the link between religion and law is in dire need of reform, and that discriminatory interpretations of Islam are a root cause of violence against women in Sudan.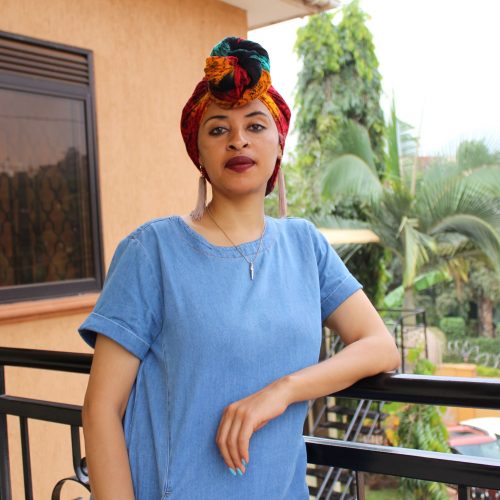 ETHIOPIA PROGRAM COORDINATOR
PROFILE: ZEMDENA ABEBE
Zemdena Abebe is the founder of Afri-colors, a social-enterprise startup, curating made-in-Africa products, crafted by women. As a Pan-Africanist -womanist- she refuses to be erased and amplifies the voices of women through her research, writing, multimedia -storytelling, organizing, and activism: disrupting intersecting oppressive systems. Her social justice advocacy work started in high school; Chaired Addis Ababa Girls' Forum– which facilitated discussions amongst girls laying the foundation for legislative intervention against sexual abuse in Ethiopia. As the first women president of Addis Ababa University Students' Union: she reaffirmed the need and organized various youth-led movements despite the hostile university context. One of the 22 young African women selected as part of the writing for social change workshop organized by AWDF and FEMRITE in Kampala, Uganda. An alumnus of the prestigious Mandela Washington Fellowship.
Amongst her multilayered affiliations, she sits on the advisory council of ActionAid Ethiopia. Previously, she worked with UNICEF Ethiopia and consulted many other local and international organizations such as the EU, FEMNET.HBF, FHS, TRUST AFRICA, etc. Volunteered for the African Union (African Academy of languages in Bamako, Mali: as a research and Marketing Assistant. Zemdena is a graduate of Political Science & International Relations, who often likes to dance her way to freedom. Asserting the notion that African women, girls & non-binary folks have the right to a life free of heteronormative -capitalist -anti-black -patriarchal terror based on their overlapping otherness: her work reaffirms that human progress is achieved through imagining a better world through the realization of a transnational strong justice-centered human kinship. Zemdena's writings of resistance can be found on Pambazuka, Africa is a Country, HBF, African Feminism et al
Procurement and Finance Officer: Justine Namuyanja is a highly skilled professional with over five years' experience in the fields of Finance, Procurement and Administration. She is an ambitious person who has developed a mature and responsible approach to tasks or any situation that she is presented with and is excellent in working with others to achieve institutional objectives. Justine holds an MBA (Finance) and a Bachelor's degree in International Business from Makerere University and a PGD in Monitoring and Evaluation from Uganda Management Institute.
Finance Officer: Sauda Kayaga is a Statistician by profession. She holds a Bachelor's degree in Statistics from Makerere University. She has 2 years' experience in statistical research and analysis, 3 years in cashiering and banking and 3 years in project financial management. Sauda possesses a good head for figures and dealing with complex modelling and analysis as well as a sound grasp for financial systems and procedures with an extreme passion for what she does.
Head of Finance and Administration: Ms Mayada Eltayeb is SIHA Network's head of Finance and Administration division, she joined SIHA in 2008. Mayada was born in Sudan and grow up in United Arab Emirates. She graduated with a Bachelor's degree in Accounting from Ahfad University in Sudan in 2005. Mayada has experience working in several audits and accounting firms prior to joining SIHA; she has undergone several NGO financial management training in Uganda and South Africa.
Would You Like To Join Our Team?
Often times we have a number of career opportunities. If you would like to join our team, some of these would be a perfect fit for you.